Coconut

Detail :
Coconut is one of Thailand's main tropical fruit. On, holidays dreams. Think of seaside resorts with green coconut trees line along white sand beaches. You can find coconut tress on the beaches of small islands and also hotel resort islands. One quenches thirst taking a young fresh coconut juice straight from the top cup coconut. One can also take the tender pulp meat by scrapping along the inside of the nut.


Wake up with the best tropical nutrient of Thai Fruit drink, your sense will come alive with the perfect temptation.
Fresh Young Coconut and Juice
For thousands of years, coconuts have been an integral part of the diet in tropical countries, providing the nourishment needed to sustain a healthy life. Coconut milk, derived from the coconut meat, is the main ingredient for their ingredients in cooking dishes. Coconut oil is used not only for cooking, but also to nourish the skin and hair, and for body massage for shinning and smooth appearance.

In the South Asian and South East Asia Region, where Aryurvedic medicine has prevailed for centuries, the coconut is highly respected for its medicinal qualities. When used as body oil and blended with stimulating spices such as cayenne pepper, it acts as a carrier to circulate the blood and stimulate the organs. The highly mineral contained coconut juice acts to detoxify the kidneys. According to the results of some medical findings, coconut's unique form of saturated fat actually helps prevent heart disease, stroke and hardening of the arteries. Unlike other oils and fats,, coconut oil contains a large amount of the fatty acid known as lauric acid , which is the predominant fatty acid found in mother's milk. The lauric acid makes breast milk easily digestable. It strengthens the immune system and protects against viral, bacterial and fungal infections.
Young fresh coconut juice
Its sweet taste satisfies thirst and sweet cravings and contains no fat. It provides the alkaline balance to an acidic condition which is the primary cause of most illnesses. Coconut water works on a cellular level. It contains the most concentrated amounts of cytokinins than any other food source. These are the cell's DNA protective agents. When cytokinins are present, the cells can than replicate to form a perfect copy of its DNA. If they are not present, imperfect cells are formed resulting in future chronic illnesses.
PACKAGING
Our standard export packaging is for 9 nuts per carton. With the highest quality of laminate white/brown paper with Thai origin 's Brand name, it can make sure that the carton can be kept cool under the temperature of +2c. Also, we are prefer to pack and make any brand according to customer 's requirement.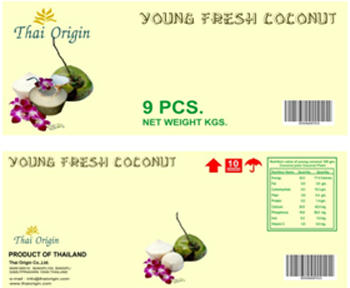 Young Fresh Coconut from Thailand
Product

: Young Fresh Coconut

Type

: Sweet juice / Fragrant juice

Origin

: Thailand

Shape

: Diamond or Round shape

Size

: 1-1.30 kgs/nut

Packing

: 9 nuts/carton ( with food film wrapped )

Gross weight

: 11-12 kgs/carton

Minimum order

: 1 x 20'FCL/ RF ( 890 cartons )

: 1 x 40'FCL / RF ( 2,050 cartons )

Lead time

: coconut will be cut from our farm 3 days before departure date

Certificate

: Phytosanitary certificate and Certificate of origin

Payment

: T/T or L/C at sight

Price quote

: Ex-Factory or FOB Bangkok
Matured Coconut ; with brown semi-husk
| | |
| --- | --- |
| Product | : Matured coconut |
| Type | : with brown semi-husk |
| Origin | : Thailand |
| Size | : 500-600 grams of meat / coconut |
| Meat thickness | : 1 – 2 cms meat thickness |
| Weight | : 1 piece coconut with brown shell and thin husk is weight around 1.5-2.0 kgs |
| Packing | : 10-20coconuts/PP bag |
| Gross weight | : 30-40kgs/PP bag |
| Max load | : 1 x 20'FCL/ DC( 9,000 – 10,000 coconuts ) |
| Lead time | : 2 weeks in season |
| Certificate | : Phytosanitary certificate and Certificate of origin |
| Payment | : T/T or L/C at sight |
| Price quote | : Ex-Factory or FOB Bangkok |